Doctors & Staff
Meet our doctors and staff who strive to make Family Eye Care of Toccoa the leading provider of vision care products and services in Toccoa.

---
Lindsay Martin, O.D.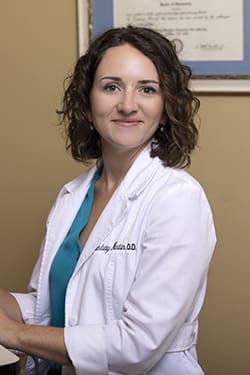 Dr. Martin is a graduate of Southern College of Optometry in Memphis, TN.
She earned her Bachelor of Science in Biology from North Georgia College & State University in Dahlonega, GA. She joined Family Eye Care of Toccoa in 2016 as an associate and purchased the practice in 2022. She has experience in pediatrics, geriatric eye care, specialized contact lens fittings, and ocular disease.
Dr. Martin and her husband reside in Lavonia, GA with her husband and 2 sons. During her free time, Dr. Martin enjoys gardening, hiking with her family, and baking! Dr. Martin is also the pianist and choir director at her church.
---
Dylan Chitwood, LDO
Optician


Dylan is a graduate of Ogeechee Technical College with a degree in Opticianry. He is a Licensed Dispensing Optician and is ABO and NCLE certified. He joined Family Eye Care of Toccoa in 2015.
When he isn't helping fit you in the perfect pair of glasses, Dylan enjoys white water kayaking, hiking, and weight lifting.
---
Kayla Godfrey
Certified Medical Assistant, Ophthalmic Technician, Contact Lens Specialist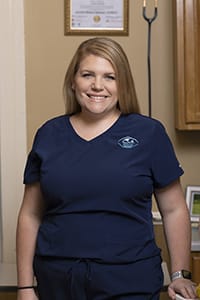 Kayla is a Certified Medical Assistant and has been an ophthalmic technician since 2018. She will perform your Preliminary Examination and obtain your medical history for the doctor. Kayla can answer most questions regarding your exam or contact lenses. She will also assist you with your prescription refill needs.
Kayla is from Lavonia and graduated from North Georgia Technical College. Kayla enjoys camping, spending time with her husband and her 2 beautiful daughters.
---
Norma Walters
Optical Technician and Fashion Consultant


Norma has been an optical technician since 1995. She loves working with people and is the heart of the practice. She has extensive knowledge of current technology in eyewear and is passionate about meeting the visual needs of our patients. All of this in addition to her unequivocal fashion sense make for a great experience.
During her spare time, Norma loves spending time with her family and grandchildren.
---
Maria Chitwood
Patient Care Coordinator


Maria has many years of experience working with the public. She retired from the Franklin County School System and the City of Lavonia and she joined Family Eye Care of Toccoa in 2023.
Maria loves working at Family Eye Care of Toccoa because she gets to work with her 2 children, Dr. Martin and Dylan Chitwood. Maria enjoys hiking and Jeep riding with her husband.
---
Donna Teasley
Patient Care Coordinator and Insurance Specialist


Donna is your first point of contact when you walk into the office. She can answer questions regarding your insurance and scheduling.
Donna is a graduate of Piedmont University with a degree in business administration and psychology. She joined Family Eye Care of Toccoa in 2023 after retiring from the Georgia Department of Family and Children Services. Donne enjoys gardening, photography, and loves history.